Countdown to Homecoming 2013! Watch the Welcome Home video here!


Ready to Reunion!
In a few short days we look forward to welcoming you to Homecoming Weekend to celebrate your reunion!   Read on for some last-minute pieces of information to help guide you through your weekend. (All information pertains to everyone unless it's specifically marked for one weekend/group in particular).

Check-in when you arrive at the Welcome Home! Alumni Meet & Greet for your reunion pin and registration package.  Alumni who purchased the 25th Reunion Bundle (on the weekend of Oct 4-6) and the Tricolour Guard Bundle (Oct 18-20) can also pick up their name-badge and football tickets at the registration desk. We will be in Grant Hall on Friday from 1–4pm and Saturday  8–11am.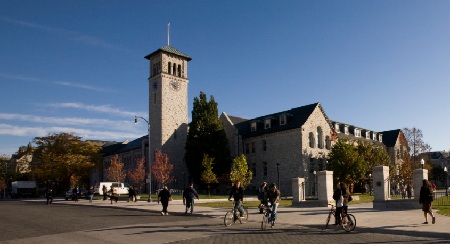 The Homecoming Program Booklet will be available to pick up in hard-copy at Grant Hall during the Welcome Home! Alumni Meet & Greet   event. The October 4-6 weekend booklet is also available now in pdf format and mobile-friendly, and the October 18-20 weekend booklet will be available online next week. Be sure to take a look, as it includes a schedule of events for the weekend, scavenger hunt clues (back pages) and information on accessibility, among many other useful tips!

Please note the following updates on Football tickets, the Half-time parade and Richardson Stadium :
Don't forget to print your football ticket! (unless you've purchased a 25th or Tricolour Guard weekend Bundle) If you've pre-purchased your football ticket online you must have a printed copy in-hand to enter the stadium. (There is not yet mobile-scanning technology available). If you forget your ticket you must visit the Athletics "will-call table" near Gate 1 – but try to avoid this as there is likely to be a line up!  
The stadium has undergone some recent renovations; please visit this site

 

for details

,including a diagram of the updated stadium layout, the changes to alumni seating, and the changes to the half-time parade.
The half-time parade will begin in the southeast corner of the track

(marked on the diagram in the link above), and the arrangement of the classes in the bleachers should facilitate organization of the parade, as the classes will proceed in the order in which they are seated. Classes will be asked to gather behind the stands in the staging area behind the south bleachers.

On Oct 5, the Classes of '88 will lead the parade in celebration of their 25th Reunion.
On Oct 19, the Classes of '63 will lead the parade in celebration of their 50th Reunion.
Any alumni whorequire assistance around the track will be welcomed by our volunteers into a golf cart, and a volunteer will drive them around the track with their classmates.
When the parade ends at the northwest corner of the track, alumni can proceed on the walking path in front of the west bleachers until they reach their seat again.

 

Golf carts will be driven behind the west bleachers and back in through Gate 2, and alumni will be driven directly back to their seats.
​
Be on the lookout for our

student volunteers

in red vests for any assistance in finding your way through any aspect of the weekend, including
the new stadium layout
.
Alumni are invited to pick up their
free Kingston Transit Bus Pass
(which will be valid all weekend long) when they check in at the
Welcome Home! Alumni Meet & Greet
in Grant Hall either Friday 1:00-4:00pm or Saturday 8:00-11:00am. Thank you to our sponsor, Kingston Transit!
Parking on all Queen's campus surface lots is free
for Homecoming weekend! Pay-and-Display street parking spots require payment within the hours listed. See the map in the program booklet for locations.
Is your bookshelf missing a
Tricolour Yearbook?
The AMS Yearbook and Design Services' shelves are full, and they're hoping to connect with alumni looking for their yearbook from 2003 to the present. Stop in at Room 106 Kingston Hall to pick up yours, or simply to peruse their archival collection of yearbooks, which goes back to the 1920s!
Come back with cans!
Queen's students are holding a university wide food drive and want to partner with you to make a difference. Bring your contributions to the corner of University and Union on Sunday Oct 6 or Sunday Oct 20 for
Queen's Gives Back
between 9:30-11:30am!
Check your Class Webpage or contact your Reunion Coordinator for all the latest details on your class-specific plans. Don't know who your Reunion Coordinator is? Ask us!
---
Connect with Homecoming events and activities -
Put Queen's social media to use!
Spread the word using the following Queen's pages:
If you're using Twitter, remember to add hashtag #queenshomecoming
Our Homecoming webpage:
www.queensu.ca/homecoming2013
Need help utilizing social media to best effect for promoting
your Homecoming events? We can help!
reunions@queensu.ca
---
Questions?
reunions@queensu.ca
1-800-267-7837
---
Homecoming Countdown:

3 days until the first Homecoming weekend!