Kingston Community Invited to Join Homecoming Weekend Events!

 
Over 100 events over both Homecoming weekends are open to members of the Kingston Community, who are welcome to bring their families and engage in Homecoming 2013. The following events are just a sample of the many opportunities open to everyone:
---
Kingston Welcomes Queen's Alumni
Springer Market Square, intersection of King Street and Brock Street
| | |
| --- | --- |
| © Queen's University | Join Mayor Mark Gerretsen, Artsci'06, in Springer Market Square as Kingston Welcomes Queen's Alumni to Homecoming 2013. The Queen's Bands will be performing for the community and returning alumni on both Saturdays (October 5 and 19) at 10am. |
Movies in the Square
Springer Market Square, intersection of King Street East and Brock Street
| | |
| --- | --- |
| © Queen's University | Downtown Kingston! is holding a special Movies in the Square event on the Friday evening of both Homecoming Weekends. This event is open to everyone - no registration required - so bring your lawnchair and a cozy blanket! |
Hospice Chilifest
Confederation Park, 216 Ontario Street (Kingston Waterfront)
| | |
| --- | --- |
| | Hospice Chilifest 2013 will be held on October 5th from 12pm-3pm. Enjoy a special day featuring local restauranteurs and chefs struttin' their hot stuff! Check their website for ticket information (student rate of $10 with a valid student ID!) and updates on event details. |
Scavenger Hunt
Happening both weekends! Answers to clues will be planted throughout the Queen's and Kingston Community. The list of clues will be in the Homecoming Program booklets, available in print or online at www.queensu.ca/homecoming2013. Everyone is welcome to participate (and possibly win an amazing prize brought to you by Tourism Kingston): no registration required!
Go Gaels Go!
Don't miss the exciting line up of sporting events taking place over both weekends! Visit gogaelsgo.com for information.

Student Clubs Exhibits & Graduate Studies Showcase
Grant Hall, 43 University Avenue
Everyone is welcome to join us at Grant Hall from 9am – 11am Saturday October 5th and 19th to see and experience what Queen's student clubs and groups are working on and hear about the exciting research being done in Graduate Studies, including an update on the winners of the 3 Minute Thesis competition. No registration required.

Museums, Open Houses, Displays and More
There are so many exciting opportunities to participate in. Please visit the Homecoming website for full details: www.queensu.ca/homecoming2013

Queen's Gives Back
Outside of the John Deutsch University Centre, (or inside its Lower Ceilidh in the case of poor weather) 99 University Avenue
This event embodies two of Queen's distinctive traditions – student leadership and community engagement. Come out and support this joint Queen's and Kingston United Way food drive! Students and alumni will be coming door to door collecting food items – we hope you might be able to contribute to this important drive.
School of Music Showcase
Grant Hall, 43 University Avenue
This year, the School of Music's Showcase event aligns with the second Homecoming weekend (October 18th), making it the perfect opportunity for everyone - visiting alumni, Queen's students and staff, and members of the Kingston community - to take their seats in Grant Hall and enjoy an incredible evening of music. Tickets are available at the door, and a full story on this exciting event is included below.
Be sure to check the Homecoming website regularly, as well as the Downtown Kingston! website for updated event details and to plan your weekend schedule.
---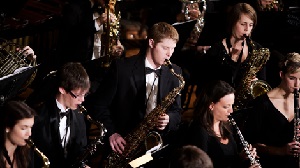 © Queen's University
Three times a year, the talented students of Queen's School of Music take to the stage as part of their academic requirements. Unlike most exams or term projects, this Showcase welcomes guests to come and experience the moment, as the students display the skills and talents they are working so hard to perfect.

The evening will feature four very different ensembles: Choral Ensemble, directed by Mark Sirett (Mus'77); Symphony Orchestra, directed by Gordon Craig (Mus'73); Jazz Ensemble, directed by Greg Runions (Mus'80); and Wind Ensemble, directed by Dan Tremblay.

The Showcase will take place at 7:30pm on Friday, October 18, at Grant Hall.Tickets to the event are $10 for adults, $5 for students and seniors, and are available at the door. For those of you who might be feeling particularly nostalgic, this will be the last year for ensemble performances in Grant Hall, before the completion of the new Isabel Bader Centre for the Performing Arts.

In addition to the Showcase, the School of Music is also hosting Homecoming events for alumni on the weekend of October 18-20. On Saturday, October 19, from 9:30-11:00 am, all alumni are welcome to visit the foyer of Harrison-LeCaine Hall to get together with classmates and School of Music faculty members for coffee, tea, and sweets. A nostalgic photo display will be sure to get the memories flooding back! At 10:30, an official alumni photo will be taken of all the alumni who are at Harrison LeCaine Hall. And to cap off the day, a School of Music alumni dinner will take place at 7:30 pm at Amadeus Restaurant, 170 Princess Street.

For further information on any School of Music events or to confirm spots at the alumni dinner, contact Shirley Roth by email at sr14@queensu.ca or by phone at 613-533-2066.
---
Volunteer Opportunities at Homecoming
SEEKING STUDENT VOLUNTEERS!
Heard people talking about Homecoming? Wondering what this means for you?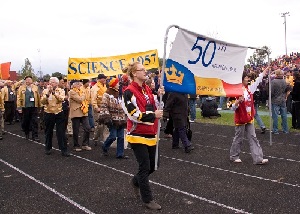 © Queen's University
The countdown for volunteer recruitment is on! When students return to campus in a few short weeks, information on how to get involved in Homecoming through volunteering and online registration will be available.
There are close to 300 student volunteer opportunities this year! Designed to encourage meaningful connections between students and alumni, all volunteer roles will provide unique chances for students to help welcome alumni home.
Online volunteer registration will open on September 1st. Please contact our Volunteer Coordinator for more information.
---
Marking a Milestone
Each year, thousands of Queen's graduates return to campus to reunite and celebrate safely with classmates. Whether it is their 5th or their 50th reunion, many classes take this opportunity to give thanks and pay tribute to Queen's by either launching or encouraging a renewed reunion class giving effort.

Visit http://www.queensu.ca/annualgiving/classgiving.html for more information and to see the new Top 20 Class Endowment Rankings!
---
Schedule of Events
As our list of planned events continues to grow (to over 100 events over both weekends!), please visit the Homecoming website for the full schedule and updates.
Are you a member of the class of '83? Join your classmates (friends & family welcome!) for an all-faculty 30th Reunion Party on October 19th at The Underground. All proceeds will go to The Jack Project. Be sure to get your tickets early, as this event is expected to sell out! Contact Alfiesevent@gmail.com for information, and see event details below.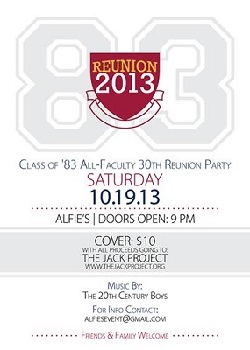 ---
Homecoming Trivia
As Homecoming draws nearer, it's time tobrush up on your Queen's trivia!
Match the events on the left with the Tricolour Yearbook that they were published in:
| | | |
| --- | --- | --- |
| a) | Victoria Hall became a co-ed residence. | 2008 |
| b) | The Quiet Pub (now the Queen's Pub) opened. | 2003 |
| c) | Work crews began construction on the Joseph S. Stauffer library at the corner of University and Union Streets. | 1998 |
| d) | Gordon Lightfoot performed a sold-out concert in Grant Hall. | 1993 |
| e) | Goodes Hall was opened as the new home of the School of Business, and Chernoff Hall as the new home of the Chemistry Department. | 1988 |
| f) | Canadian band Metric performed at the Frosh Concert during Orientation Week. | 1978 |
| g) | A massive ice storm, blamed on El Nino, gave students a day off school. | 1973 |
| h) | Including this year's class, the number of Queen's graduates was approximately 19,500.  (Today it's over 140,000!) | 1968 |
| i) | Kingston celebrated its 300th birthday. | 1963 |
|   |   |   |
Answers: a) 1988, b) 1978, c) 1993, d) 1968, e) 2003, f) 2008, g) 1998, h) 1963, i) 1973
---
What Are People Saying?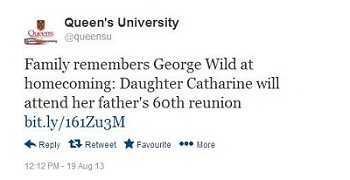 ---
Homecoming & Social Media
If you want to promote your Homecoming events and activities, put Queen's social media to use!
Spread the word using the following Queen's pages:
If you're using Twitter, remember to add hashtag #queenshomecoming
Our Homecoming webpage:
www.queensu.ca/homecoming2013
Need help utilizing social media to best effect for promoting
your Homecoming events? We can help!
reunions@queensu.ca
---
Sponsorship
If you are interested in advertising options or information on becoming a sponsor, please contact Peter Gillespie at peter.gillespie@queensu.ca.
---
Questions? Ideas?

reunions@queensu.ca
1-800-267-7837